Mema House | About Us
A Peek Into Why We Do What We Do!
We specialize in all things sensory play! From the DIY ideas to our convenient ready to go Sensory kits and sensory toys, we got your back!
Our services and products are grounded in play-based learning that build's your child's confidence and self-esteem! We believe that children learn best by being actively engaged in their learning process while they play. We provide event entertainment and sell sensory play products for children to relieve stress and participate in a hands-on play experience!
We LOVE sensory play activities because of the important brain connections that are developed as your child engages. (it's literally life changing!) Through sensory play children learn in every developmental domain! 
It is our mission and passion to promote the importance of creativity, altruism, and positive self-esteem in all children. When children are given the opportunity to create and explore, they gain confidence to try new things and learn about different outcomes. Taking risks, discovering possibilities, and enjoying every moment of hands on exploring leads to life-long memories and lasting positive developmental outcomes! 
Mema House LLC
We launched our Sensory Play Shop in Feburary 2022! Mema House is a Children's Entertainment Company who provides hands-on event services locally to SoCal and ships our sensory products all over the United States!
Our vision is to empower every child to exude confidence and creativity in everything they do as they learn through hands-on play!
Follow us!
Activity Tubs
Are your sensory fillers Taste-Safe?
How old should my child be to play with your products?

Majority of our products are currently recommended for ages 3 and up! Keep in mind that adult supervision is always required during play to ensure safety. Waterbead products should not be used for children under 3 or those who or orally seeking. They can cause serious injury so DO NOT purchase products containing these if you are not comfortable with supervising your child during play.

There are a few of our fidget toys that are safe for little ones under 3 such as the Sensory Drip Toy, Teething Tool Set, The 3-D Popper Ball,The Flower Pop it and MORE!
Do you sell your fillers separately?

When you purchase our Activity Tubs, you have two options, You are able to purchase with the Tub or contents only. We currently only sell fillers as a theme not individually. (Unless you want Waterbeads 😍)

We currently have 4 Sensory Fillers that we sell seperatly! We have our Signiture Rainbow beans, our Galaxy Beans, Our Pink Lemonade Mix, and Our Rainbow ABC's & 123's
How do I set-up the Activity Tub?

We always like to recommend that you set-up the Activity Tub in whatever way is most convenient for you! Here are a few tips to make your life a little easier!


1. Put down some floor coverage to make the clean-up easier!

2. Use the Activity Tub lid as a tray to further extend your child's play environment!

3. Eliminate expectations for your child's play. Our activities are open-ended and child-led so allow your child to fully tap into their creativity and explore how they see fit within their play environment!
Shipping
How much is shipping

Currently we have a flat rate shipping cost of $10 for all Activity Tub orders.

All orders under 3 lbs have a shipping cost of $4.90.
When will I receive my Package?

Your product will be taken to USPS within 2-4 days after purchase. Once USPS receives your package you should recieve them within 5-7 days.

Please keep in mind that these are estimates and there may be delays due to holidays and post office shortages due to Covid-19 that are out of our control.
What is your refund policy?

Mema House LLC has a no refund policy. Please feel free to EMAIL us (NO Social Media DM's) if there is an issue with the product. Be sure to Include the name the order was placed for and the order number.

If the issue is on our end and the product is damaged we will do our best to meet your needs.

Once your order is placed it may not be cancelled or refunded. We do not offer exchanges at this time.
Do you offer pick-up and/or delivery?

Yes! We offer pick up within 3-5 days of your order. No Delivery at this time.
My package has not arrived, what do I do?

If it has been past 10 days since you received your tracking number, please check your tracking on the USPS website. Contact USPS first and then send me an email so I can check things on my end.
Parties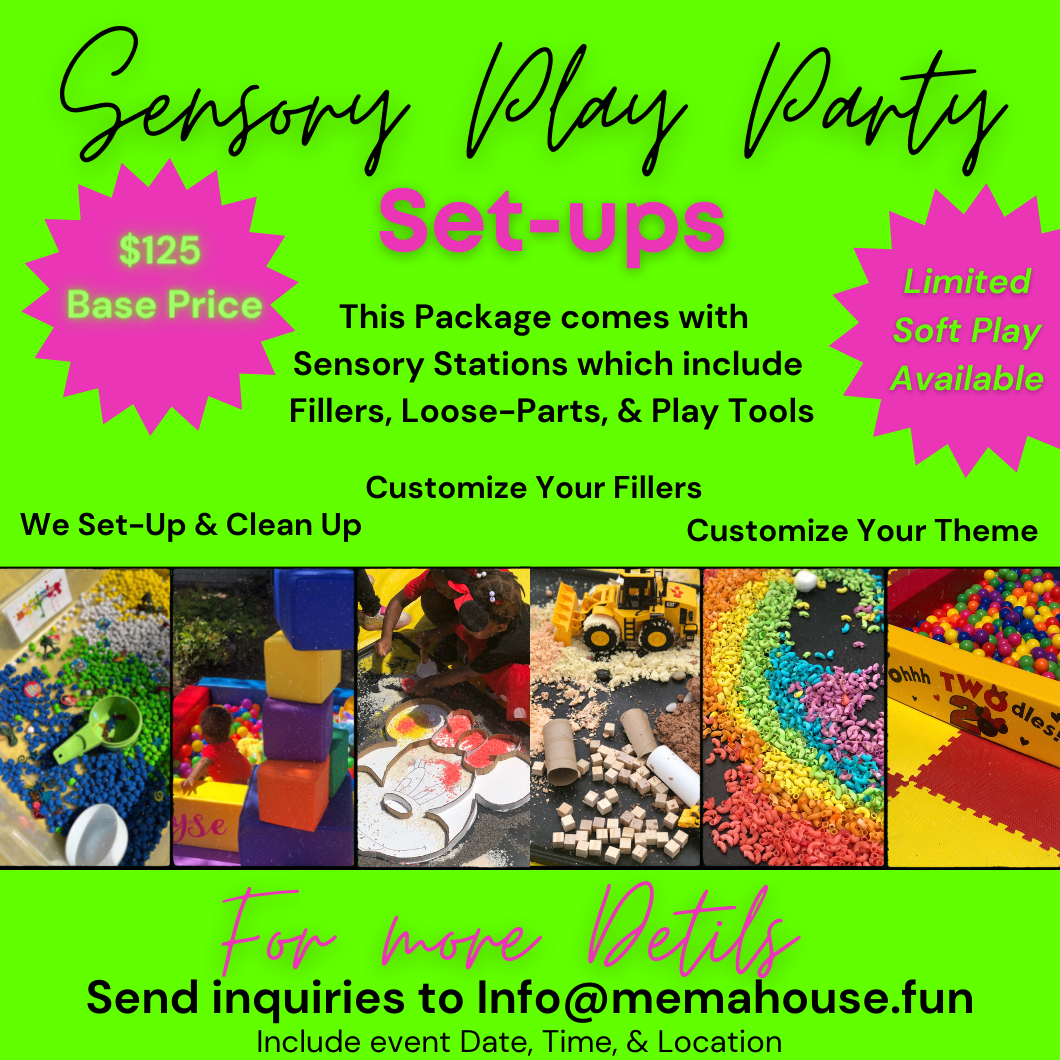 Do you Travel?

YES! We have a travel fee that will be implemented outside of 15 Miles from our Homebase.
How do I book you for my party?

First of all, THANKS for thinking of us!

Please send an email to info@memahouse.fun with your inquiry. (You can also submit your inquiry on the "Contact Us" Page)

Include the date of your event, the time, and the location.

Once we confirm that your date is available we will respond to your email within 72 hours to discuss details for your theme and the exact fillers you want! Once that is done we will write up the contract for you to read and sign.

All parties MUST be booked at least 2 weeks in advance AND pay the 25% deposit fee to reserve your date.
Do I need tables?

No. All of our sensory play set-ups are Ground-Level and we provide the tarp for our stations.

If you are interested in another party package, you will need to rent tables from an outside sorce. We DO NOT provide tables, however we have a local reccomendation we can share with you!
Do you stay to supervise?

Mema House Staff will only stay for the set-up (stay for some content videos/pictures) and clean-up. Children MUST be supervised by an adult from your event at all times during play.
How long does set-up and clean-up take?

We will need to arrive at your event an hour before your scheduled start time for our set-up. Clean up will take 30-45 minutes.
How long can I book you for my event?

Bookings may be a minimum of 2 hours, max of 4 hours. We find that children typically tend to disengage around this time.

Community events come with exceptions
Do you have other type of Party Packages?

Yes! We do offer Creation Station Party Packages! Please send us an email about your party interest to get more details on pricing and what they include!

-Soft Play Rentals Only

-Tie Dye Party

-Slime Extravaganza

-Juice & Paint

-Sand Creations